Collins Pre-Orders - Canapes - Multiplying one set menu/selection by a set number
Before sending out a Pre-order request to a customer, you can determine in multiples how many they need to order per each dish. This is especially useful for canape menus, where you can implement how many the guest needs to pre-order for their party.
You'll find this setting in the 'Pre Orders' tab of the booking. Before sending out the menu to the guest, you can activate this by clicking on the 'cog' button on the right-hand side of the page and inputting the number of multiples you want this customer to order.
Then, when the guest is choosing their orders, it will default to the number of multiples you have set: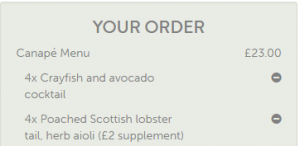 *** Please Note ****
If you've set up a set menu within you Pre-Order settings and implement a multiple order like the above, the set menu rule will still be intact. Therefore, if you set up a multiple rule of 4 and have 9 items for £20, the guest will be prompted to select 4 x one order, 4 x another order and 1 x final order.