Collins LiveWait - Texts Explained
As soon as you add a customer to the waitlist, they will receive an automated message which will say the estimated wait time.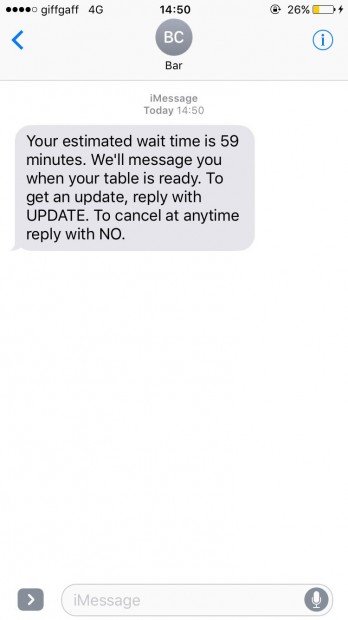 From this, they can:
Reply with NO saying they want to removed from the waitlist. After this, they will receive another automated text confirming they have been removed from the waitlist. This will also take them out of your waitlist within Collins, then automatically re-adjust the wait time for the other people on your waitlist.

Reply with UPDATE; If after some time has passed, they want to find out long their wait is at that time, replying with "update" sends them an automated message letting them know an updated estimated wait time

Reply with a personalised message; If after they want to type an SMS to the venue, they can also do this here.
Inbound Texts
With Collins LiveWait, you can manage all inbound Text Messages from your customers. If a customer replies with a personalised message, you will be notified of this by a blue speech bubble in your Waitlist.
Here you can see which Waitlister has replied and then start a text trail within the system. If you click on the blue speech bubble, you will be able to the customer's text and any previous texts that have been sent to them. You can free type a message back to the customer or using the hyperlink above, you can let them know when their table will be ready really quickly.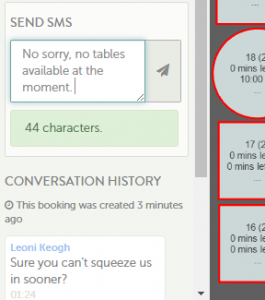 To head back to the bookings list them simply click the Check-In List button at the top.
To see your complete Text Centre (all inbound SMS messages), click on the blue waitlist button on the Floorplan, or if you're working from the Diary you can click on the 'X Unread' button that's at the top of the page.
When a table is ready
You can set up Collins to send out a reminder text 10 and/or 5 minutes before the table is ready and a final text once the table is ready. These texts will update the customer about when they can start heading back to the venue, should they decide to have a drink elsewhere. The messages can be personalised too.
To set these up, go to:
Settings

Venues & Click on the venue name

Emails and Texts

At the end of the page, there is a section for 'Waitlist Reminders'